Welcome to Shee Ji Super Precast
About Shree Ji Super Precast
We, Shree Ji Super Precast are a manufacturing unit of manhole frames and covers. We started our Operations from January 2015, and our unit is located at Bhamashah Industrial Area Kaladwas, Udaipur. We Own brand new moulds and machinery to make the best quality products.
Shree Ji Super Precast is a sister concern of Shree Ji Concrete Industry. Shree Ji Concrete Industry was established in 2010. Shree Ji Concrete Industry also manufactures manhole frames and covers.
PRODUCTION FACILITIES AND CAPACITY
We have installed sufficient number of mixture machines, vibrating tables and around 200 moulds with all supporting equipments like Welding Machines, Bar Cutters, Bar and Sheet Bending Machine, MS Plate, Cranes (gantry), Trollies, Curing, Tanks, Raw material godowns etc.
Recently we have increased our capacity to manufacture 4500 manhole, frames and covers, 3500 ferro covers per month.
We have an excellent production line of manufacturing grass grid, fencing, precast manhole chambers with a capacity of around 1500 units per month.
Manhole cover and frame: Extra heavy duty, heavy duty, medium heavy duty (circular and square) as per IS: 12592

Pre cast manhole chambers and rings, inspection chambers and covers.

Other products:- Ferro covers, SFRC footsteps, precast manhole chambers, trench covers and other cement products as per drawing Provided by the buyer.
We are authorized from Bureau Of Indian Standards for using ISI mark on Precast Concrete manhole cover and frame. Our CM/L no. is 8600107415.
We are very concerned with our product quality for that we have establish A-Class Laboratory whichis fully functional and well equipped with testing equipment such as
Hydraulic Test Machine
Humidity Chamber
Cube Testing Machine
All Type Of Sieves,
Caliper, Micro Meters, Scales.. etc.
All machines regularly calibrated and full record of factory testing reports are maintained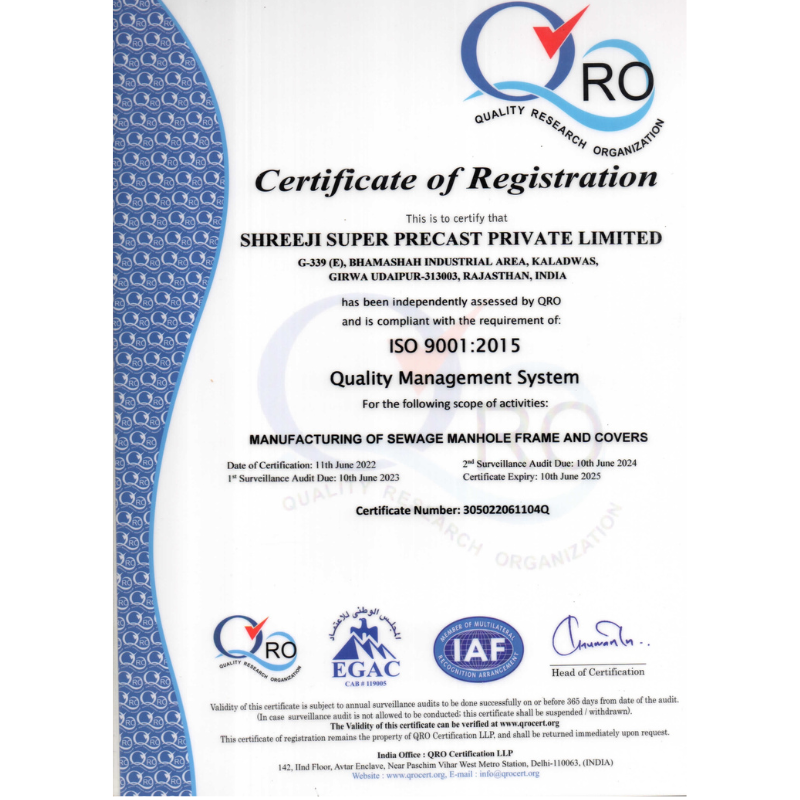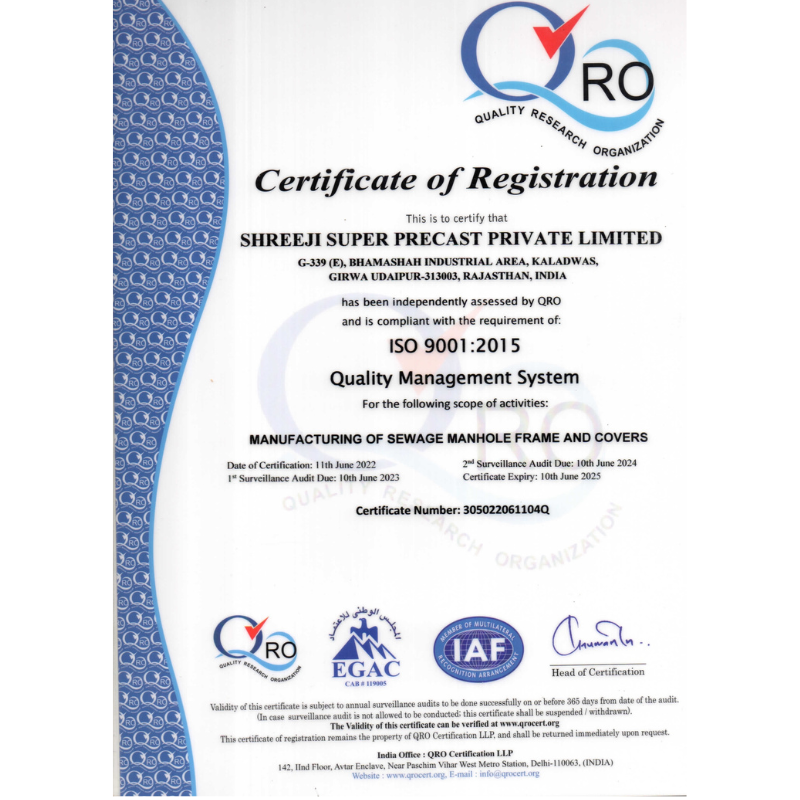 300X300 manhole frame and cover.

2. Trench cover:-

1200x500x125

1000x500x125

1040x740x100

740x520x100

540x540x100

Dia 450, MD

manhole frame

and cover

UIT Udaipur

sewerage

scheme

Khilari

infrastructure

pvt. Ltd.

Dia 560, HD 20

SFRC frame and

cover

UIT water and

sewerage

network

1. Dia 560, HD 20

SFRC frame and cover

2. Dia 450, MD 10

300x300

GT frame and cover

3. GT 300X300 frame and cover

CS Construction

Company pvt.

Ltd.

Debari power

house, Udaipur
Discover the full range of our products by downloading our brochure now!